ARGUMENTATION 2.0 & CRITICAL THINKING
Have you been debating for quite some time? Do you know the basics but your progress is not as fast as it was in the beginning? Maybe you keep hearing that you need to "analyze more", "improve your speech organization" or "work on your strategy". It's hard to imagine what those things mean when there is never enough time to explain properly. Let's make the time for it this summer. If you can't decide whether you should apply for Argumentation 101 or Argumentation 2.0: – No previous experience with debating – Please attend Argumentation 101 & critical thinking if you have no previous experience with competitive debating. No, discussions with your uncle over the Christmas table nor arguing with teachers at school doesn't suffice. – Lots of experience with debating – Argumentation 2.0 & critical thinking – Somewhere in between? – up to you! This course is for people with at least some experience with debating. We will focus on advanced argumentation, advanced strategy, rebuttals, and many more concepts designed to help those whose speeches usually get average or slightly above average points.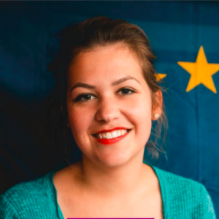 Sára first fell in love with debating some 6 years ago, thanks to Discover Academy. Since then she has been President of a high school debating club she founded and of the Masaryk University debating club in Brno, Czech Republic. She is Chief Adjudicator of the Slovak National Debating League. These days she mostly judges debates for the Slovak Debating Association and gives lectures on debating and critical thinking. She loves her cats and Coke Zero. Sára will teach Argumentation 101 & critical thinking and Argumentation 2.0 & critical thinking.