Argumentation 101 & Critical thinking
You know the feeling when you get this amazing idea and you're trying to explain it to someone else? And somehow, it doesn't sound as great out loud as it did in your head? Is the person staring at you like they have no clue what you're talking about? We often try to persuade people in our lives. Well, we're not always successful because argumentation is a skill that needs to be learned. Maybe it's time to face the truth that sometimes it's not that others "don't get us", but it's our lack of skills to get our ideas across. This course is here to help you improve your argumentation and enhance your critical thinking, giving you the tools you need for more effective communication.
You're not going to learn which opinion is "the right one" nor what you should think. You're going to learn to defend your views. You'll also learn to defend what you don't believe in. Why would anyone do that? Because it makes you step out of your comfort zone. Outside your comfort zone lies a better understanding of others and their views. When we understand the beliefs of people we don't agree with, we are more successful in communicating our own ideas.
Over the week we will focus on how to make better arguments while discussing controversial topics from everyday life. I am fine with Jon Snows – you can know nothing of what debating is. There are no "special skills" needed either. Maybe you're thinking that you might be a bit too shy for this course. Don't worry, almost everyone is a bit shy, including me.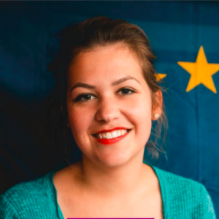 Sára first fell in love with debating some 6 years ago, thanks to Discover Academy. Since then she has been President of a high school debating club she founded and of the Masaryk University debating club in Brno, Czech Republic. She is Chief Adjudicator of the Slovak National Debating League. These days she mostly judges debates for the Slovak Debating Association and gives lectures on debating and critical thinking. She loves her cats and Coke Zero. Sára will teach Argumentation 101 & critical thinking and Argumentation 2.0 & critical thinking.